Planet Ark Stories and Ideas
Planet Ark Latest Stories »
Sign up to our monthly newsletter for fun, free eco living tips
Planet Ark is all about creating positive environmental actions, for everyone – but especially for you. And the easiest way to learn about those actions is to subscribe to one or more of our e-newsletters.
Whether you're looking for positive inspiration at home, at work or in the community you'll find something in our suite of e-newsletters. The newsletters include new trends, tips and tricks, special features, and promotions and competitions - all designed to make your life a little greener.
Sign up to one or more of the newsletters here.
Privacy Statement: Email address and other information collected on this form is for use only by Planet Ark for the purpose of sending our newsletters to subscribers. No information is shared with any other group or organisation.
Latest Stories
Date: 07-Oct-11
Author: Lucy Band
Planet Ark welcomes an announcement from the UK Carbon Trust that it is the first organisation to offer certification to the Greenhouse Gas Protocol Product Lifecycle Standard for product carbon footprints.
Date: 06-Oct-11
Author: Lucy Band
There's no better reminder than National Recycling Week (November 7-13) to inspire us to do something with all the disused items around our homes and offices that can be recycled or given a new lease of life.
Date: 30-Sep-11
Author: WCRA is pleased to deliver the next workshop to introduce a Waste & Resource Recovery Facility Workers Manual to benefit waste management facility workers, waste and resource recovery educators and managers.
Date: 16-Sep-11
Author: Lucy Band
With new Low Carbon Australia's financing opportunities there is no better time for business and industry to take steps to improve the energy performance of their buildings and operations, helping reduce costs and become energy smart and carbon savvy. Find out more
Date: 07-Sep-11
Author: Lucy Band
Managing regrowth may help us turn green.
Date: 02-Sep-11
Author: Jodie Lewin
The National Tree Day 2011 results are pouring in and we want to say thanks a million. That's one thank-you for every tree, shrub or grass that was planted for Tree Day. Find out more...
Date: 01-Sep-11
Author: Zhi Yan
The Northern Territory's ban plastic bag ban starts today.
Date: 29-Aug-11
Author: Guardian News and Media Limited
Climate change, population growth, and soaring demand for food, energy, water and other resources are changing the way the world sees and values forests. A vision is emerging of a new kind of company - the forest services company. In the future, forests could act as a backbone of sustainable economies by providing a multitude of renewable goods and services. The successful forest companies of the future will recognise this opportunity, use it to advance their own bottom line, and help ensure that forests survive and thrive.
Date: 26-Aug-11
Author: This month is Small Business September in NSW. The state government is encouraging owners to see their business from 'a new perspective' and sustainability is increasingly a new perspective for small businesses.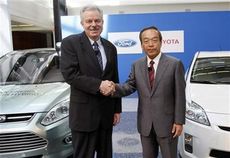 Date: 25-Aug-11
Author: Reuters
Toyota Motor Corp and Ford Motor Co will work together to develop hybrid trucks and SUVs that will be ready for market by the end of the decade, the two companies said on Monday.
Date: 25-Aug-11
Author: The Sustainable Markets Grants program aims to encourage investment in projects that support the development of sustainable markets for recycled products.
Date: 23-Aug-11
Author: Zhi Yan
Australia's parliament endorsed the world's first national scheme that regulates the creation and trade of carbon credits from farming and forestry on Monday, to complement government plans to put a price on carbon emissions from mid-2012.